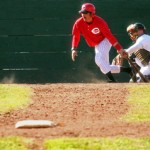 Athletes, performers, business people, and many others have had the experience of suddenly no longer being able to perform at their expected or normal levels. Perhaps they suffered an accident. Perhaps extreme, or not so extreme, pressure has been placed on them. Perhaps a trauma from the past is making life difficult today. We have all seen pro athletes suddenly, and it seems inexplicably, unable to throw or hit a ball, a gymnast unable to perform her routine, a writer with writer's block, a professional who falls apart every time it is the moment to present why a promotion is a reasonable choice.
For many people, once those fears set in their careers are over. But there is help. I have studied with some of the top peak performance experts who shared ways to help people not only get past their blocks, but to soar to a higher level. I have been using a most amazing and profound therapy called EMDR (Eye Movement Desensitization and Reprocessing) since 2000. Sports psychology can help you to achieve the goals for which you are striving. I am also in the process of getting my certification in Sports Psychology from AASP; this certification is considered one of the most highly regarded in the Sports Psychology field. I have had the honor to watch so many of my clients heal. I am now excited to help athletes, performers, writers and so many others take their craft and skill to an even higher level.
There is hope. There is a way to change and heal. Do not give up!